TORCH OF SPIRITUAL LIGHT
Sri Devendra Vigyani ji Maharaj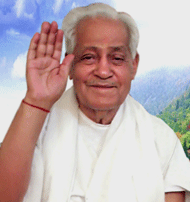 S
ri Devendra Vigyani was born on December 16, 1918 in the village of Nagla Ranjit Singh, District Buland Shahar (Uttar Pradesh State), India. His childhood name is Devendra Pal Singh. His father Sri Deep Singh was a school-teacher and mother Srimati Narayani Devi was a housewife. Both his parents were very religious. Sri Vigyani was very different right from his childhood with great interest in religion, Hindu Philosophy and spirituality. In his childhood itself, he developed great devotion for God Rama by reading the Ramayan daily and for Lord Krishna, being of the same Yaduvanshi dynasty of Brij and Mathura and thought about real aims of human life. He used to insist his parents and cry to bring Rama & Laxmana for him to live and play with. One famous fortuneteller of ascetic vision forcasted to Vigyani's father that your son will be God-realized liberated saint and will be the redeemer of your family. Believing him, his spiritual minded father was very happy and began to love him all the more with high expectations.
As he grew up, he became increasingly interested in sages and seers and thought about the real aim of human life. His spiritual tendencies grew during college life. Heavily aggrieved by the untimely death of his younger brother, he became very detached from the world and even his studies. One day, he met an unknown Sannyasi and requested him to stay with him in the hostel. He was living all alone in a 3-seater college-hostel-room which was situated in a quiet and secluded place, where no other student dared to live because of the fear of snakes and its cracked walls. The saint agreed and stayed a day and night with him. Very pleased with his devotion and service, the saint blessed him to achieve the main goal of life. He was an unknown Siddha (self-realized soul) who was never seen again.
While studying in Xth class, heavily aggrieved by the memory of his younger brother, he determined (vowed) to have a real sight (appearance, i.e. Sakshatkar) of Lord Krishna playing on a flute and do nothing till this desire is fulfilled. He locked the door and sat on a mat in the room meditating on the said picture of the Lord Krishna and prayed to Him to appear. The whole night and the other day passed. He remained in rapturous states for some times feeling His presence like in a clear dream. As he was absent in hostel-prayers, he was searched for. Hostel-warden and his friend knocked the door repeatedly and compelled him to open the door and come out. This incident increased his inclination all the more towards the God-realization (spirituality) and to remain a Brahmachari (unmarried) through out the whole life. He developed aversion to the English language college education and passed Vaidic Dharma Visharad examinations due to his religious temperament.
He joined his elder brother late Sri Jagpal Singh who was an extra ordinary Karma Yogi and who, later became very influenced by the spiritual inclinations of his younger brother and finally, himself became not only a very successful businessman but also a highly spiritual soul. Sri Devendra Vigyani, very reluctant to worldly matters, constantly yearned for a Guru who could lead him to Moksha (salvation), his chosen objective of life. He got a photo of Sri Narayan Tirth Maharaj from the book "Mahayoga Vigyan" and started worshipping him. His extreme devotion and resolve resulted in the appearance of Param Guru Sri Narayan Tirth Ji Maharaj on Thursday, November 24, 1938, between 4, 5 a.m. in Delhi, who then initiated him in "Swapna Diksha" (initiation in dream), a very effective system of "Shaktipat" initiation. His Sadhana following this grew very intense for many years. He also introduced his parents, elder brother, sisters and close friends to "Shaktipat Diksha/initiation", convinced them of its importance and eventually got them initiated by Guru Sri Ram Kala Sharma an affectionate disciple of Sri Guru Dilip Dutt Sharma Upaddhyay of the same lineage. Sri Upaddhyay, a disciple of Sri Yoganand Brahmachari, was not only a staunch scholar of Sanskrit and Vedic literature but also a rare and self-realized Yogi of a very high caliber who had "ICHHA MRITYU" (death at one's own will). He stayed in family life away from publicity but was very affectionate and kind to Devendra Vigyani.
Vigyani was greatly inclined towards rigorous Yoga Sadhana and to attain salvation along with super natural powers. His spiritual minded father supported him fully. After his father's death Vigyani remained in the service of his mother in his village. Having sufficient time he did deep Sadhan and studied all the 4 Vedas translated and commented by Saayanacharya, Saatvalekar and Swami Dayaanand. He studies Mahabharat also along with many other religious books noting down the important points of all these in his personal diary. He arranged daily prayers and gave religious discourses to the gathering of villagers. He coaxed his mother with love and devotion to do regular deep Sadhana for her to have God realization & salvation. She was already initiated in Shaktipat Deeksha at the behest of Vigyani.
He also joined the " QUIT INDIA" movement in 1942 and worked as a sincere freedom fighter till independence. Vigyani always remained very grateful to all those persons who helped him even slightly in his spiritual pursuit. Some of these being his own father, Principal Bhoodev Sharma, the unknown saint who blessed him with his darshan and stayed with him in the hostel for a day, Sri Munshi Ram Sharma, Sri Ramkala Sharma, Sri Dileep Dutt Sharma Upadhyay, Swami Sri Vishnu Tirth Ji Maharaj etc. etc.
After the death of his parents, Vigyani set out for pilgrimage and finally reached the holy land of Rishikesh in Himalayas where so many famous Yogis performed their deep penance. As advised by Sri Upaddhyaya Ji, there he met Sri Yoganand Brahmachari (later known as Sri Yogendra Vigyani Ji Maharaj) on April 15, 1945, a famous Yogi and himself a disciple of Param Guru Sri Narayan Tirth Ji Maharaj since 1918. He humbly expressed his highest spiritual ambition and inquired, "I only want to know if you possess and can give me what I am searching for? If you do, it is up to me to take it from you, not by begging for it, but through my extreme devotion and unique service".
Sri Yoganand Brahmachari answered, "No one has come to me yet craving for such a thing and asked me such questions. I shall pray to Lord Shiva to fulfill your desired goal". He then became his disciple and surrendered his lifetime savings, belongings and his whole self to him. As a truest disciple, he offered him unflinching devotion, performed Shaktipat Sadhana, stayed in his service whole-heartedly and followed his testing and rigorous orders without any hitch. At his behest, he also married Smt. Shanti Devi in 1947 and accepted Grahasth Ashram (family life). Sri Guru Yoganand Brahmachari himself married and made a clear statement again that family life is not only acceptable for the pursuit of Moksha (self-realization) but also, in many cases, very helpful because it allows one to conquer worldly passions and Vasanas (lustful tendencies) by experiencing them first and thereby, unmasking and thus revealing their hollowness and falsity. For this reason, many great pillars of Indian spirituality and Rishis stayed in family life. He spent many years in service of his Guru. During this time he became very close to Yogendra Vigyani Ji Maharaj who had called him his best disciple ever in many letters he wrote. He conferred upon him the title of "Vigyani" and Guru Power to initiate in "Shaktipat" as his successor. He helped many other people in getting initiated in Shaktipat by Sri Yogendra Vigyani Ji Maharaj who was not easily approachable because of his short temperament and Yogic Aura. He also came in contact with many other famous Yogis of Himalaya in Rishikesh, Swami Shivananda Ji Maharaj, Sri Mahesh Yogi Ji Maharaj, Swami Vedvyas Ji Maharaj and Shankaracharya Sri Swami Satyamitra Nanda Giri to name a few.
More importantly, he came in contact with late Sri Swami Vishnu Tirth Ji Maharaj who had gotten Shaktipat initiation from his Guru Sri Yoganand Maharaj back in 1933 and became a Sanyasi later. Spiritual brotherhood between Sri Devendra Vigyani and Sri Swami Vishnu Tirth always remained very strong. As a Sanyasi, Swami Vishnu Tirth Maharaj was very affectionate to him and Vigyani always very respectful of him and remembers him with great reverence and regard to date. Sadguru Yogendra Vigyani relinquished his mortal body on June 26, 1959 in Rishikesh in the laps of his beloved disciple Devendra Vigyani. The relationship between Sri Swami Vishnu Tirth Ji Maharaj and Sri Vigyani grew. He accompanied Swami Vishnu Tirth in his travel to Pashupati Nath (Nepal) where swamiji once offered himself to fill the void left by the departure of Guruji in the spiritual life of Vigyaniji. He also urged him to initiate genuine aspirants in "Shaktipat". Swamiji was very devoted to the holy river Ganges in Rishikesh and wished to spend more time at its banks. Inspired by Swamiji's desire, Vigyaniji donated his land for the construction of the Ashram "Yoga-Sri-Peeth" in Muni-Ki-Reti, Rishikesh and Swami Ji's many disciples contributed in its construction. The spiritual tradition of Sri Swami Vishnu Tirth Maharaj is being carried forward by his spiritual heir Sri Swami Shivom Tirth Maharaj and his disciples after he relinquished his mortal body on October 1, 1969. Sri Devendra Vigyani, retired from his day to day business/family responsibilities in 1992-93.
He was of the opinion that one must enter the fourth order of life (Sannyas Ashram) after the age of 75 years. As such, after his retirement, he intended to become a Sannyasi. At that time, H.H. Sri Swami Narayan Tirth Ji Maharaj was the only adorable Guru for him who had the appropriate lineage and spiritual status. He was Sannyas-Guru-Brother of H.H. Sri Swami Vishnu Tirth Ji Maharaj and was equally kind, affectionate and close to Vigyani. So, in 1995 he went to Uttarkashi, with a check-book in his pocket for the expenditures of Sannyas-Diksha (Bhandara or feast of Sannyasins etc.) accompanied by Swami Govindananda Tirth and Nardeva Kothari and requested Swami Ji for Sannyas Diksha. Swami Ji said : "Devendra Ji, You have been leading an exemplary life like Raja Janak and have already achieved the very main goal of being a Sannyasi. This Ashram and life is no more adorable and worth while now-a-days for persons like you. Take my advice and give up this idea of becoming a coloured-cloth Sannyasi. You are already a Sannyasi internally. No use of colouring the clothes now." Honoring his sincere advice he returned back home and decided to remain in the family intensifying the real vision of Supreme knowledge and Bliss absolute. But still he is of the opinion that the fourth order of life (Sannyas Ashram) may be more beneficial for better experiences of the universe and divinity.
He started visiting his eldest son Narendra Kumar then residing at 1600, Squire Drive, Maple Glen, PA 19002, USA. There, the quiet atmosphere and lack of distractions suited him well in taking his spirituality to new heights. On his Bodh Diwas (day of self-ealization), November 3, 1993 in the evening (Indian time, Nov. 4, Thursday, ~ 5a.m.) he had the divine experience of self-realization and felt his absolute eternal consciousness ( Sakshatkar, Granthi-Vedh ), the ultimate goal of human life. Recently, at the age of 88 years, Sri Devendra Vigyani continues to pursue many other spiritual endeavors including efforts for the upliftment of "The divine science of Shaktipat", inspiring people to pursue goals of human life, guiding genuine aspirants in their quest for self-realization, thorough study of scriptures and writing. He has initiated some 70-75 disciples only in "Shaktipat". He has been very concerned about the decline, commercialization and misuse of Lord Shiva's divine science of "Shaktipat" and deterioration in its effectiveness and power. Vigyaniji wrote to most of senior Shaktipat Gurus in 1994 and appealed to them to take corrective actions. It is his earnest desire to restore this divine tradition of "Shaktipat" to its former glory and to help, mentor and guide those who are genuinely interested in achieving the highest goal of human life : Moksha (self-realization, absolute eternal bliss). Books written by him "Yogavaashisthasaar Sangrah", "Bhaagawatsaar Sangrah', "GeetaSaar Sangrah" 'Parampara-utkarsha-yagna', 'America-Pravas', 'Pattrottar-saar-sangrah' and 'Atmagyan-muktak', are already published in Hindi. The English translation of "Yogavashisthasaar-Sangrah", is planned for posting on this Website. Many articles, collection of answers and directions to the aspirants are awaiting publication.
Guruji had talked about living in the body up to 100 years with Sri Kothari Ji and others as suggested in the sukta in our ATHARVAVED, JEEVEM SHARADAH SHATAM. He reached very close but did not want his body to be burden on any other in the slightest or saw it useful to others who were mainly attracted to his powerful speeches which had to cease bound by Dharmas (properties) of mortal body that spare no one including Gods. He indicated his intentions to leave his body to many before time and decided to do so the morning of September 17, 2016 at 4. a.m. His last words were chants of "Rama". Guru Mata Srimati Shanti Devi was the last person to talk to him in his physical body. Pujya Shri Devendra Vigyani Jee Maharaaj has appointed Shri Nardev Kothari Jee as his successor for shaktipaat deekshaa tradition.
Addresses :
INDIA :
61-JEEWANI MAI ROAD
RISHIKESH - 249201
(Dist. Dehradun) U.A.
E-mail : gurubhakt@adhyatmajyoti.org

U.S.A. :
8-COURY ROAD,
HILLSBOROUGH, NJ 08844 USA
E-mail : gurubhakt@adhyatmajyoti.org